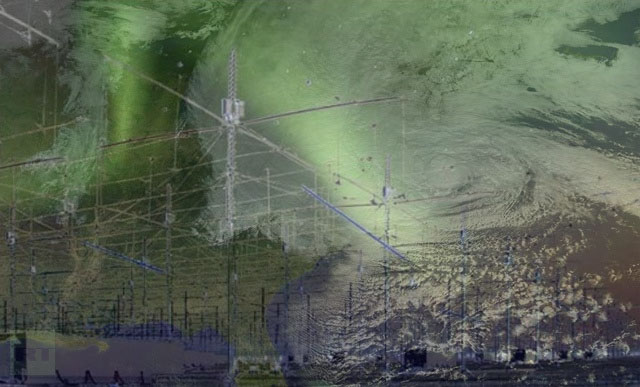 02 Nov

Sandy Brings Together DHS, Eco-Fascists & HAARP to Create the Perfect Political Agenda

Susanne Posel

Prior to Tropical Storm Sandy making landfall, President Obama declared New Jersey a state of emergency at the request of Mayor Vincent Gray. This allowed the Federal Emergency Management Agency (FEMA) and the Department of Homeland Security (DHS) to oversee the conditions created by the storm and make decisions as to how best to provide necessary equipment and resources to those impacted.

David Axelrod, senior strategist to Obama commented about Sandy's impact on the elections: "Obviously, we believe the more people participate in the election, the better. And the storm can be disruptive. But to the 50 million people in its path, there are more immediate and potentially grave concerns that transcend politics. We'll have to wait and see its impact."
Thanks to Sandy, Obama could balance the appearance of a caring Commander-in-Chief during a disaster, while travelling the campaign trail. This performance could assist in gaining points and justify the necessity of him remaining in office, according to mainstream propaganda.
Governor Chris Christie said: "This assistance will enhance the State's capability to respond quickly and put assets into place where they are needed to help New Jersey residents impacted by Hurricane Sandy."
After Sandy, New York City has been added to the list which allows FEMA and DHS to take over counties like Bronx, Brooklyn, Manhattan, Queens, Staten Island and Nassau and Suffolk by offering government grant money to residents for damage in affected areas.
The Red Cross set up 11 initial shelters in a 17-county region in New York. Trudy Rice, spokesperson for the Red Cross office in Arizona explained that 900 volunteers "from registered nurses to mental health providers, truck drivers [and] shelter providers" have been trained and are on stand-by.
Preparations for Sandy's arrival in New York, Philadelphia and Washington, DC, included public transitbeing shut down, schools closed and all non-emergency government employees told to stay home. As well as the New York Stock Exchange (NYSE) was shut down because of Sandy at the beginning of this week; leaving only electronic trading to continue. This is the first event that caused the NYSE to trade completely digital.
Also, in response to Sandy, an estimated 7,000 flights were cancelled and most airports completely suspended operations. Amtrak stopped providing service along the Northeast Corridor Monday.
In the wake of Sandy, initial reports say 7.4 million customers from Maine to the Carolinas are without power. Christie confirmed that "we are in the midst of urban search and rescue. Our teams are moving as fast as they can. The devastation on the Jersey Shore is some of the worst we've ever seen. The cost of the storm is incalculable at this point."
Wall Street is covered under the remnants of a 14-foot storm surge. This has kept the NYSE and World Trade Center area closed for another day.
In New Jersey, reports of a possible levee breach have caused residents in Moonachie, Little Ferry and Carlstad to evacuate because of the burgeoning waters in the Hackensack River.
New York was the scene of massive fires that consumed an estimated 80 to 100 beachfront property in Breezy Point with 190 firefighters working to contain the outbreak.
Eco-fascists like Jennifer Granholm, correspondent for CNN, has declared that Sandy was the result of man-made global warming and that the mainstream propaganda machine is missing an opportunity by "ignoring climate change." Granholm decries: "There's a clear link to climate change. And, yet, for the first time in over a quarter century, climate change was not brought up even once at the presidential debates."
Chatter on Twitter concerning Sandy being "mother nature's revenge" for having destroyed our environment is quite apparent. Changes in our atmosphere due to man-made global warming have not been definitively proven; however it is clear that the consistent geo-engineering that has been altering our planet and weather systems is having an impact.
Todd Stanford, alarmist scientist for the Union of Concerned Scientists at the globalist college Cambridge University, claims: "It will always be a combination of both climate change and natural variability . . . knowing how a changing climate is affecting the risk of impacts with these storms."
Craig Altemose at the Better Future Project (another globalist think-tank from Cambridge University), explains that alarmist scientists must have the ears of politicians because "a great many more Frankenstorms, Frankendroughts and Franken-heat waves. We need leadership to connect what is happening out there and the policies that drive it."
With Sandy being dubbed "Frankenstorm" by the eco-facists, their unsubstantiated eco-concerns about forcing humans to pay the government carbon taxes for breathing and endangering human life for the sake of biodiversity may become a topic discussed by the presidential puppets.
Amanda Staudt, senior alarmist from the Agenda 21 supporters at the National Wildlife Fund (NWF) said:"Folks, this storm is exactly the sort of thing climate scientists have been worried about for years. Global warming is putting hurricanes on steroids and we're beginning to see the effects."
However, mainstream propaganda is working hard to ignore the strange fact that in 1997, at a training session at the National Hurricane Center in Miami, Florida, a simulation was presented using data from a hurricane that formed in 1938. The postulation would have a storm hitting Long Island and Westchester County. The hurricane was named Sandy after the hurricane that was recorded 60 years earlier.
The simulated Hurricane Sandy was expected to make landfall in the evening on Oct 4th 1997.
According to training declarations the simulated Sandy was proposed to:
• Effect states from North Carolina to Maine
• It was a slow moving storm at 28 mph
• Center of circulation would hug along Long Island and New England
• Maximum winds 125mph, Category 3
• Hurricane winds extend 60 miles from center
• Tropical storm winds extend 240 miles from center
Please follow and like us: